Open Daily/Nightly
Try your luck at the casino or grab a bite to eat.  
19 Steak and Seafood(best to make reservations)812-427-7777
Stadium Grill
See menu
Golf Course also available
Elk Creek Winery Owenton Ky
July 16th 6-9pm Lyn & Merry Duo
Eagle Creek Vineyard
106 E Main St, Warsaw, KY
July 23,2022 Velvet Soul at Warsaw Riverfront Park 6-9pm
August 6th, 2022 Car Show 10am-5pm and Concert in the Park, Tyler Mullins 5-8pm
Location:
Warsaw City Park
100 W Locust St/ 3rd St.
The Good OL' Boys & Girls car club invites car lovers from everywhere to bring their beloved vintage cars or something newer they think is special.  You'll see some antique tractors too.  These folks are very proud of their machines and love it when you ask them questions. Bring your lawn chair enjoy the cars, the Ohio River, and friends then stick around for music late in the afternoon.
Enjoy the view from Warsaw City Park while you listen to a talented Tyler Mullins and friends.  Bring your lawn chairs and be ready to tap your feet.
August 12th & 13th Rock the Boat Raft Up All Day!!
Smugglers Cove Marina
Join us for the 5th Annual Craig's Creek Raft-Up hosted by Smugglers Cove Marina & Sunset Grill!  It's two days of adults having fun in rafts races and spending time on their boats with old friends and making new friends too.   
FRI, AUG 12 - AUG 15 Interstellar Music Festival 2022 Interstellar - Kentucky Speedway
Fri Aug 19 and Sat, Aug 20 Madison Ribberfest!!!!
Friday Aug 19 and Sat, Aug 20 5pm-11:30pm
 Sat, Aug 20
Bicentennial Park
Vaughn dr, Madison, IN
Celebrating 20 years! Blues music festival w/nationally known artists. KCBS, Amateur and KidzQ competitions. Ribs, Food trucks and more
Sat, Aug 27, 10 AM – 11 PM Swiss Wine Festival and parade100 Ferry St, Vevay, IN
America's premier historic brass band – on Aug. 28.
Lanier Mansion State Historic Site
601 W 1st St, Madison, IN
Bring a lawn chair and join us for this spectacular outdoor summer music at the Lanier Mansion.
Fri, Sep 9, 6 – 9 PM Broadway Fountain Madison, IN
Music in the Park!   Local and regional bands rock out downtown Madison at Bicentennial Park!
SAT, SEP 10 AT 9 AM Kentucky Speedway Exotic Driving Experience Dream Drive Exotics - Kentucky Speedway Blvd, Sparta, KY 41086, United States
October 1st The Guess Who concert at Belterra Casino
Belterra Casino Resort
777 Belterra Dr, Florence, IN
October 1st 7pm-11pm
October 14 & 15 Sleepy Hollow Car Show and Cruise In
October 14th 6-9pm
October 15th 10am-?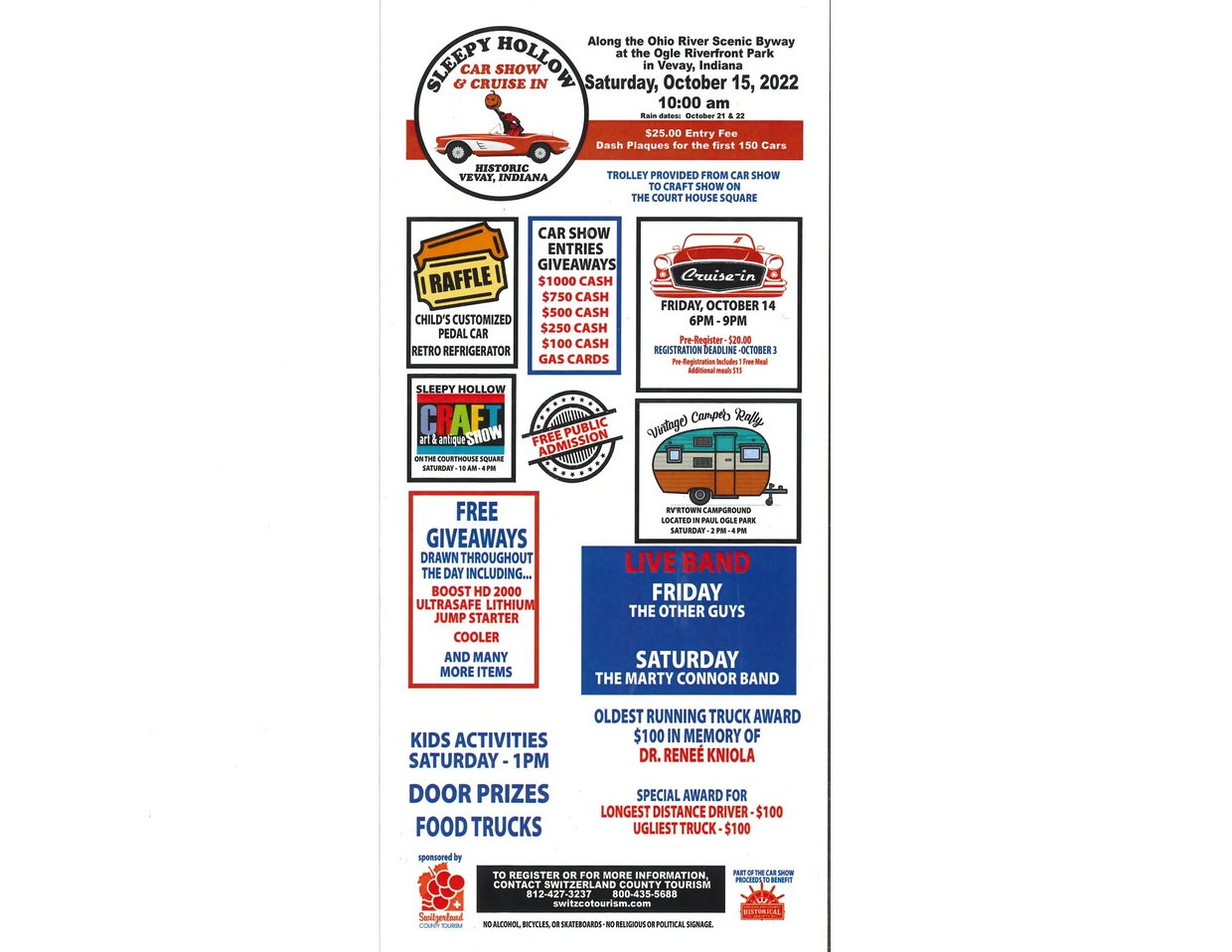 Murder and Merriment will be at the Riverside Inn for the murder mystery "Silent Night, Deadly Night"  Show starts at 7pm.  Call for tickets 859-567-1329
Christmas open house at the Riverside Inn Bed and Breakfast.  Come see the Inn decorated for christmas and enjoy cookies and hot chocolate as well.  $10 donation per carload that goes to the Salvation Army.  Call for more info  859-567-1329
Christmas on the square, Warsaw Kentucky.  Vendors, food and parade
Merry Christmas from all of us at the Riverside Inn Bed and Breakfast
Visit the Kentucky Speedway home page for a list of activities including Driver Experience packages